Delia Delgado, MD
Dr. Delgado graduated medical school from University of Puerto Rico, and completed her residency training at San Juan Municipal Hospital. She has been in private practice serving the women of St. Petersburg for the last 17 years. She enjoys taking care of her patients and building long term relationships with each and everyone of them.
When she is not in the office she enjoys traveling, camping and gardening. She has also likes to spend time with her two puppies, a Morky and a Maltese.

Monique Monard, MD
Dr. Monique Monard, M.D. is passionate about providing comprehensive care to women at every stage of life. She strives to collaborate with her patients to help them achieve optimal health through treatment and prevention. She uses a compassionate approach to patient care and views each patient holistically.
Dr. Monard's areas of special interest and expertise include pregnancy and minimally invasive gynecologic surgery. She is a recipient of the American Association of Gynecologic Laparoscopists Award for Excellence in Minimally Invasive Surgery. She is dedicated to performing innovative procedures with the latest technology. She also manages contraception, hormone replacement, fertility, and menopause as well as a wide range of gynecologic issues including abnormal bleeding, ovarian cysts, and fibroids.
Dr. Monard earned a B.S. in Pharmacology from the University of California at Santa Barbara. She received her medical degree from Geisinger Commonwealth School of Medicine in Pennsylvania. She went on to complete her Obstetrics and Gynecology residency at the University of Kansas Medical Center.
Dr. Monard is from Fort Lauderdale, Florida. In her free time she enjoys going to the beach, reading, cooking, and spending time with her pug, Hamlet. "

Alexis Lipton, MD
Dr. Lipton is a born and raised Floridian and local to the Tampa Bay Area. She graduated medical school from the University of South Florida. She then went on to complete her residency at Winnie Palmer Hospital for Women and Babies in Orlando.
She received extensive training on the latest minimally invasive surgical techniques, including robotic DaVinci surgery, as well as giving compassionate obstetrical care to women. She has particular interest in the treatment of menstrual disorders (heavy and painful periods), infertility and endometriosis. For pregnant mothers, she firmly believes in helping her patients stay healthy, active and providing support for them on their 9 month journey.
In her spare time, Dr. Lipton enjoys spending time with her two daughters, running and traveling.
Allied Health Education:
University of Central Florida: BS in Molecular & Microbiology, Summa Cum Laude
Univeristy of South Florida: Medical Doctorate
Residency:
Winnie Palmer Hospital for Women & Babies, Orlando, FL

Lorraine Cuadros, MD
Dr. Lorraine Cuadros completed her undergraduate education at University of Central Florida, where she earned a Bachelor of Science degree in Molecular Biology and Microbiology. She obtained her medical degree from Ponce School of Medicine in Ponce, Puerto Rico. She completed residency in Obstetrics and Gynecology at Winnie Palmer Hospital for Women and Babies in Orlando, Florida.
Dr. Cuadros has special interests in minimally invasive gynecologic surgery, high risk obstetrics, and the treatment of menstrual disorders. She is certified to perform da Vinci robotic surgery. She is a member of the American Association of Gynecologic Laparoscopists as well as Alpha Omega Alpha, a national medical honor society.
On her spare time, she enjoys traveling, dancing, and taking care of her Doberman Pinscher.
Dr. Cuadros is fluent in English and Spanish.

Annika Chadee, MD, FACOG
Annika Chadee, MD, FACOG, a board-certified physician, is dedicated to making a difference in the lives of her patients. She believes in caring for her patients as though they were her own family members.
For Dr. Chadee, the most rewarding part of her work is educating and helping women navigate through all stages of their lives and during their most vulnerable moments, providing individualized care. Her special interests include treatment of heavy or painful periods, minimally invasive surgery and family planning. She also truly enjoys caring and guiding women throughout their pregnancy and ensuring a safe birth.
Dr. Chadee is board certified by the American Board of Obstetrics and Gynecology. She is a Fellow of The American Congress of Obstetricians and Gynecologists (FACOG) and a member of the American Association of Gynecologic Laparoscopists (AAGL).
She attended the University of South Florida where he earned a baccalaureate degree in Biology. Dr. Chadee earned her doctor of medicine at the St. George's University School of Medicine in Grenada, West Indies, and completed the Obstetrics and Gynecology Residency Program at Lincoln Medical and Mental Health Center, NY, which is affiliated with Weill Cornell Medical College where she was chief resident from 2015-2016. She then practiced for over three years at Southwestern Vermont Medical Center, VT, where she also served as an assistant clinical professor at the Geisel School of Medicine at Dartmouth College, NH.
She has now moved back to sunny Florida and is excited to join A Place for Women to continue comprehensive and personalized care to all women.
In her spare time, Dr. Chadee enjoys the beach, racket sports and traveling.

Beth Benson, MD, FACOG
Dr. Benson did her medical school and residency at the University of Illinois College of Medicine in Chicago.
Seeking less snow and warmer temperatures, Dr. Benson and her family moved to St. Petersburg in 1982. After delivering thousands of babies, she now devotes her time to caring for women over their lifetimes.
She is a member of the North American Menopause Society and still is part time faculty teaching the OBGYN residents at Bayfront Health.
Her joy is spending time with her two daughters and granddaughter and grandson.
A lifelong Rays fan, opening day is considered a national holiday!

Sharon Welsh, ARNP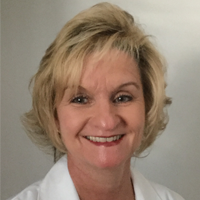 Sharon earned her Bachelor's in Nursing at the University of North Carolina, then continued on to the University of Florida for her Masters in Nursing and became an Advanced Nurse Practitioner.
She worked with Bay Area Women's Care for more than 10 years in the past, and has served women in the Tampa Bay Area for more than 20 Years.
Her years of GYN experience make her an invaluable resource for patients of all ages. She has a special interest in hormone replacement therapy including pellet therapy.

Savanna Edwards, ARNP
Savanna Edwards is board certified as a family nurse practitioner by the American Academy of Nurse Practitioners.
Her main focus is providing women with the ultimate healthcare experience through shared decision making, trust, compassion, and evidence-based holistic care.
Prior to joining A Place for Women, she spent years as a labor and delivery nurse at Morton Plant Hospital. She holds certifications in electronic fetal monitoring, neonatal resuscitation, and basic life support. She is passionate about preventative healthcare, helping women find the perfect birth control for their bodies, as well as building long lasting relationships with each one of her patients.
Savanna received her associate degree and her bachelor's degree in nursing from St. Petersburg College. She also holds a master's degree in nursing from The University of Tampa.
In her spare time, she enjoys spending time with her two Golden Retrievers and traveling as much as possible. "